🎁 Use This Code: IMMARCH2023 and Get Up To 35% Discount. Only In March! Limited Time Offer! 🎁
Cool Instagram Bio Ideas with Emojis: Define Yourself in 2023 Using 😃😍🤑!
The Instagram bio is perhaps the most prominent and the most important part of an Instagram profile. If you want to grow your Instagram following and are looking for ways to attract more followers, then the best way to do that is to have a snappy, witty, and attractive bio that will get their attention and make them want to follow you.
But the problem is, you only have 150 characters for your Instagram bio, which is quite limiting. So how can you write a compelling bio in that limited space? It's easy! Write a cool and attractive bio using emojis instead!
Convey Who You Are With Just Emojis!
When it comes to creating the ideal bio for Instagram, there are many options to choose from. You can mix up words with emojis, use only multiple emojis and skip out all the words, add a few emojis at the end of the sentence, or just use a single emoji. Here are a few unique variations of emojis and our interpretation. The following examples will hopefully get your creative juices flowing and help you come up with a clever bio using emojis!
Cool Insta Bios with Our Favorite Emojis!
🙋‍♀️💖☕
I love coffee!
🤳🏼👑
Selfie Queen!
⏱️🎉
Time to party!
📸🌆
I love taking pictures of landscapes.
😎🚵🏻🗽
Cool mountain biker from NYC!
😍🧀🥞🥯🍗🍕🌯
I love food!
🚗🏎️🔧
Car Enthusiast
👸
I'm a princess!
✈️🗺️🧳
Ready to travel!
🧑‍🎨
Passionate artist.
Easily Connect with Your Audience Just Using Emotions!
You must be familiar with the devilish smiling emoji, which basically means "Up to no good." So, a brand that works by bending the rules could use the 😈 emoji for its bio and basically define the essence of the brand.
By using an emoji, you can quickly and easily define to your followers the kind of brand you are and start building an emotional connection with them. And we all know that the key to building long-lasting relationships with the audience is emotional connections.
Where Can I Get Emojis for Instagram?
It is very easy to find the emoji you want to add to your Instagram bio. Just pick up your phone and use the emoji keyboard!
You can also go to Emojipedia on your laptop or desktop and search for the specific emoji you want.
Cool & Trendy Instagram Bios for Girls & Boys [Infographic]
Out of ideas for your Insta bio? Get some inspiration from our list of the best Instagram bio for men and boys. You can easily copy the bio you like and paste it on your Instagram profile! Here you can easily find the best motivational and funny bios using emojis about friends, love, and more!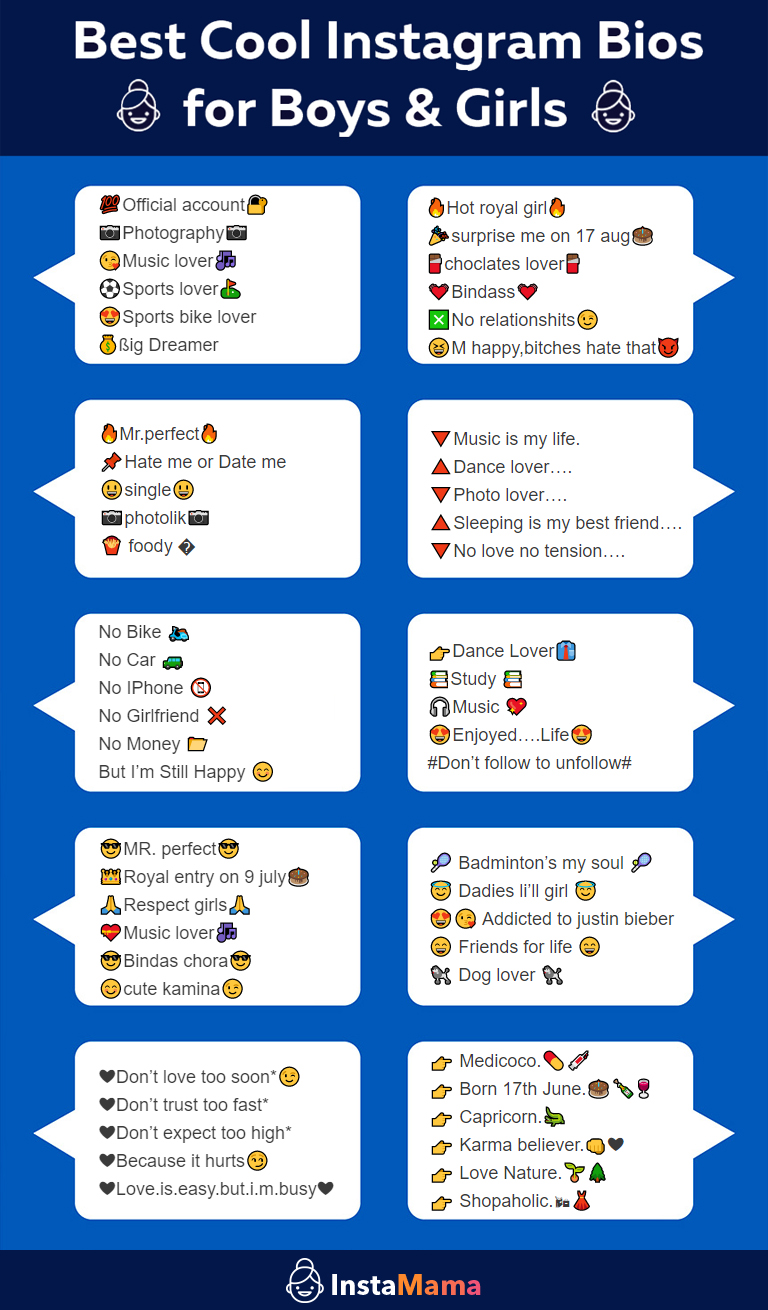 The Final Words
You really can't go wrong when it comes to choosing the right emoji for your Insta bio. For instance, opting for a regular start instead of a shooting star won't compel your followers to unfollow you. Rather, emojis are a simple and fun way to say what you want! Just remember that different emojis have different meanings depending on the context, so make sure you choose wisely!